The NDU Admission List for 2020/2021 academic session has been released. Candidates who applied for admission in the Niger Delta University (NDU) for the 2020/2021 academic session can proceed to check if they have been offered admission by the university.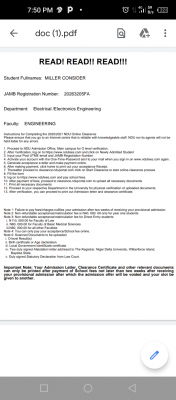 How To Check NDU Admission List On School Portal
Go to clearance.nduportal.com.
Provide your JAMB Registration Number in the required Column
Click on "Click on "Check Admission" to view your status and download your admission letter
Candidates are to also check their status on JAMB CAPS and either accept or reject the admission.
Instructions for Completing the 2020/2021 NDU Online Clearance
Please ensure that you go to an Internet centre that is reliable with knowledgeable staff. NDU nor its agents will not be held liable for any errors.
1. Proceed to NDU Admission Office, Main campus for O level verification.
2. After Verification, log on to https://www.ndufees.com and click on Newly Admitted Student
3. Input your Post UTME email and JAMB Registration Number
4. Activate your account with the One-Time-Password sent to your mail when you sign in on www.ndufees.com again.
5. Generate an acceptance e-teller and make payment online.
6. After making payment, click home to print out your acceptance Receipt.
7. Thereafter proceed to clearance.nduportal.com click on Start Clearance to start online clearance process
8. Fill the form
9. log on to https://www.ndufees.com and pay school fees
10. After payment of fees, proceed to clearance.nduportal.com to upload all necessary documents
11. Print all necessary documents
12. Proceed to your respective Department in the University for physical verification of uploaded documents.
13. After verification, you can proceed to print out Admission letter and clearance certificate.
Note
1: Failure to pay fees/charges nulifies your admission after two weeks of receiving your provisional admission.
Note
2: Non-refundable acceptance/matriculation fee is N40, 000. 00 only for year one students
Note
3: Non-refundable acceptance/matriculation fee for Direct Entry students
i. N110, 000.00 for Faculty of Law
ii. N80, 000.00 for Faculty of Basic Medical Sciences
iii.N60, 000.00 for all other Faculties
Note
4: You can only pay your acceptance/School fee online.
Note
Recommend:
UNIZIK Admission List 2021/2022
List of JAMB accredited centers in Nigeria
5: Scanned Documents to be uploaded
i. O level Result(s)
ii. Birth certificate or Age decleration
iii. Local Government identificate certificate
iv. Two duly signed Attestation letter addressd to The Registrar, Niger Delta University, Wilberforce Island,
Bayelsa State.
v. Duly signed Statutory Declaration from Law Court.

Important
Note: Your Admission Letter, Clearance Certificate and other relevant documents
can only be printed after payment of School fees not later than two weeks after receiving
your provisional admission after which the admission offer will be voided and your slot be
given to another.